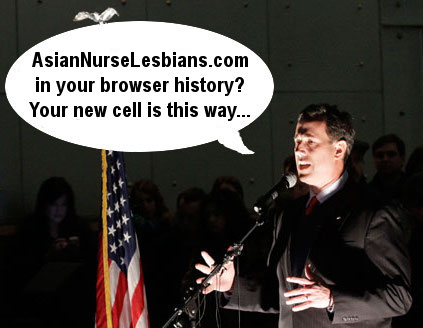 Rick Santorum actually took a moment away from obsessing about those terrifying homos to take on another scourge to his version of society.  He issued a statement that if elected he will crack down on pornography.
http://dailycaller.com/2012/03/14/vigorous-santorum-crackdown-may-catch-internet-porn-viewers-with-pants-down/
"Pornography is toxic to marriages and relationships," Santorum writes, and says he would hire an Attorney General that would vigorously enforce federal obscenity laws – which happen to be vague as shit.
This will be hard to believe, but our blog and Youtube show could possibly be considered "obscene" by some communities' standards – and would therefore be ILLEGAL.
I'm a scrawny dude and would not do well in prison.
If you're compelled to vote for one of the inexplicable Republican candidates, don't fucking vote Santorum!
Oops, I said "fucking"!  If that putz wins, I'll have to come back and delete this or I may end up in jail as someone's bitch.
Fuck that.
Shit!  I swore again.